Boaz BiFold Bookcase Murphy Bed
$2,374.00
$2,099.00
(We Pay for Shipping*)
The Boaz Bed: A Library In Your Guest Room
See The Boaz Bed in Action Below
Our Boaz Bifold Bookcase Murphy Bed System includes everything you need to transform any space into a dual-purpose guest room, complete with a library. 
Nine colors of furniture-grade melamine are available at our lowest prices, with a myriad of custom options available.  
Custom Designed: Each Murphy Bed system is crafted just for you.

Ships in about 8 weeks currently

, to your curb. Whatever you can dream up, we will build it just for you.
Bring Your Mattress: The Boaz Bed System works with any mattress up to 9 inches in thickness (11 when the depth is upgraded).

Mattress not included

.
Actual colors may vary slightly from photo depictions. See our Flickr page for more images of the various colors on installed murphy beds, closets, and offices.
Lifetime Warranty: Murphy Bed Depot has the best warranty money can buy on all of our Murphy Bed mechanisms and frames: A Lifetime Warranty! And, we offer an industry-leading 5-year limited warranty on all wood parts. If you need any parts replaced because of manufacturer defect, we will ship you a replacement part quickly, at our cost. 
Do-it-yourself (DIY): All Murphy Bed Depot cabinet systems come with all the hardware you need. Using CNC routers, the parts come pre-drilled, making your assembly very do-able with some basic hand tools. And to help you along the way, we've starred in some top-notch assembly videos that are bound to become YouTube sensations. :)
From Our Family to Yours: Our cabinets are custom-made in Florida, just for you. Whether you're looking to showcase your electric guitars, your stenciling skills, or your ship's wheel, we can help you achieve guest room nirvana.
Before You Buy: Since our cabinets are made just for you, we ask that you read all the specifications carefully and measure your space precisely before placing your order! Call or email us with any questions. See full return policy here. 
Stronger Than Your Average Cabinet: Because it is built with 3/4" thick industrial-strength particle board and a thermally fused melamine surface, your cabinet will be one of your most durable pieces of furniture. This stuff is made to last and meets or exceeds several ANSI technical standards. It's so easy to clean, we simply bring along some window cleaner and paper towels on our local installs. Scratch resistance is melamine's middle name. 
We Care About Your Safety: We've designed, tested, re-designed, and re-proven our products to make them as safe as possible for you and your guests to use. 
*Free Shipping to your curb or $175 white-glove delivery to your room-of-choice (no assembly included in this price) in the 48 Contiguous United States. Call (904)823-9255 or email Office@murphybeddepot.com for Quotes to Other Destinations.
Dimensions of the Boaz Bed Cabinet
TWIN/SINGLE Boaz Library Bed: 48" w x 88" h x 25-27" d (68" w when open) Projection into room when down: 81-83"
FULL/DOUBLE Boaz Library Bed: 63" w x 88" h x 25-27" d (89" w when open) Projection into room when down: 81-83"
QUEEN Boaz Library Bed: 69" w x 90" h x 25-27"d (101" w when open) Projection into room when down: 86-88"
Sturdy bi-fold bookshelves are 8 inches deep outside and 7.25 inches inside 
Customer Reviews
Write a Review
Ask a Question
Filter Reviews:
cabinet
springs
assembly
help
people
company
directions
videos
room
place
10/20/2020
Michael J.

United States
Great Hide-a-Bed
We like the idea of bookcase bed. The assembly definitely needs two people. Every piece was carefully wrapped and marked. Great customer service. It's a little tricky closing the "doors", as it is a tight fit, but Love the fact that it looks just like a book case. Can't stress again how wonderful customer service is and it was very apparent that great care goes into making the unit. Directions could be a little clearer for the do it yourselfer. Only negative comment would be that I would not purchase the white color again. The seams look a little "dirty" where the glue joints are. I've cleaned them but it still shows. Go for the extra few dollars and get a "wood" look! Very happy with the unit and it's functionability! Would highly recommend the unit, and the company.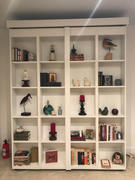 04/13/2020
Jane M.

United States
Love the Boaz
I built the Queen Boaz Library Bed over 4 days during the Covid19 shelter in place. The build was challenging but instructions and videos were helpful. I had help getting the cabinet flipped around into place so that I could attach it to the wall. The rest I managed myself until the very end when I had to enlist the help of a neighbor to attach the springs onto the frame.The Boaz Library Bed looks great, will allow one room to serve as a guest room, office and workout room. Love, love, love it!
Love my Boaz!
I ordered the bookcase in Gordon Cherry because we needed to use a room for both a place for my husband to teach music lessons and a room for guests to sleep. I searched for a very long time for a bed that I liked. So many Murphy beds look like useless cabinets or chests, and this one lets me store and display whatever I need. It does not look like anything other than a bookshelf when it is closed. It arrived so professionally packaged that the FedEx freight delivery guy with 21 years experience was very impressed. Nothing was damaged, the color was gorgeous, very true to the website. The entire package clocked in at over a thousand pounds, and this sucker is solid! Everything was well labelled and the stickers came off very easily without any gooey residue. The bed cabinet video was amazing for assembly. This was not something I could put together by myself or with my husband, although we were able to do most of it ourselves. We hired a handyman to anchor the cabinet and bed frame as well as attach the springs. When I ran into a couple of issues, it was so easy to call the company (big shout out to Zach who so patiently explained everything to me and helped me find the videos and directions I needed). I would definitely spend the money for the company to do the install, but I live so far away that it didn't make sense for us. My mother in law spent the weekend on this bed and she absolutely loved it! We added the lights and USB charger which made it super easy for her to charge her phone. The tilting headboard was great for her to sit up in bed and read. It is easy enough for me to transition to a bed by myself without any help and unless there is something very breakable, there is no need to move anything off the shelves before folding the bookcases. This company was so easy to work with and they were so patient with delivery when I was out of the country, even though it was ready to ship. I am so happy with my bed/shelves and while I don't see myself needing another Murphy bed, I know that I will be sending so many people the link to this bed as I am already being asked where I got it. After I finish decorating my bookshelves, I will add pictures to my review.
LET OUR CUSTOMERS SPEAK FOR US
Finally!
We have been looking for an affordable and well designed murphy bed for about 10 years. We found all that and more in the Next Bed. We just installed it in a closet and are awaiting our first guests. Thank you for helping us make our guest room better.
Michelle B.
05-21-2019
No Problems
This is the second Majestic Library Bed we have purchased from Murphy Bed Depot. The quality of the bed and service we received were excellent. The company went out of its way to be of help.
David B.
05-24-2018
Loved it!!
Loved it!! I was building a Murphy bed myself for our guest bedroom/office and the instructions were easy to understand. The hinges work with ease and the panel was easy to assemble and attach to the false cabinet doors. I would purchase this kit again if we ever decide to do a custom Murphy bed at a future home.
Timothy H.
05-24-2018