DIY Murphy Bed Kit-Free shipping
$397.50
$299.00
(We Pay for Shipping)
DIY Murphy Bed Kit-Free shipping
The Do-It-Yourself Kit Saves Loads of Space with an Easy-to-Lift Murphy Bed Cabinet You Build
Easy-to-lift Spring Balanced Lift Mechanism
Lifetime Warranty!
Build Any Size Bed
You Source the Wood
Instructions and Cut List Included
Free Unlimited Customer Support
We Pay for Shipping!
The DIY Kit allows you to build a Murphy Bed that has no doors to open, but instead has a face panel that folds down, becoming the bottom of the bed.
For those who want to build their entire bed frame from wood. The DIY Kit includes the same Steel Balance Lift Mechanism, Springs, and Legs as the Panel Bed Frame Kit, but without the Steel Bed Frame, allowing you to build your own frame from your own wood. The photos show what CAN BE built, using our DIY Kit. You get to source and choose the style of 3/4"-thick wood you'll use to build the cabinet frame and face panels.
The DIY Kit is a Panel Bed Kit that allows you to build a Wall Bed that has no doors to open but instead has a face panel that folds down, becoming the bottom of the bed.
If you'd like us to manufacture all the wood parts, too, click here to look at our Panel Bed Cabinets.
Our DIY Kit includes what you need to get started building your own Panel Bed System:
Build Your Cabinet: Following our free instructions, your DIY Kit mounts to your cabinet made of 3/4" thick material, which mounts onto your wall, at the top of the cabinet. Note:

no cabinetry or wood frame parts are included in this kit

. For a bed-in-a-cabinet system, click here.
Lift and Lower: One set of steel Spring-Balance-Lift Mechanisms (SBLMs), which secure to the sides of your cabinet, to raise and lower the panel bed
Spring Loaded: 18 springs, to allow for various weight mattresses and face panels
Sturdy Feet: One pair of high-strength tubular 13" legs with a segmented leg-connector bar
Bring Your Mattress: The DIY Kit works with any mattress up to 11 inches in thickness (

Mattress not included

)
Vertical or Horizontal Mount: Mount your Bed horizontally, with the included segmented leg rod.
In stock item: All of our Frame and DIY kits ships free from our warehouse in St Augustine, FL, within two business days, via UPS ground (which takes 3-5 business days).
Lifetime Warranty: Murphy Bed Depot has the best warranty money can buy on all of our Murphy Bed mechanisms and frames: A Lifetime Warranty! If you need any parts replaced because of manufacturer defect, we will ship you a replacement part quickly, at our cost. 
No Cabinetry or Wood Parts are Included in this Kit
Do-it-yourself (DIY): All Murphy Bed Depot Frame and DIY kits come with all the hardware you need for the frame itself, making your assembly very do-able with some basic hand tools.
We Care About Your Safety: We've designed, tested, re-designed, and re-proven our products to make them as safe as possible for you and your guests to use. 
Contact us at office@murphybeddepot.com or call toll free 1-866-844-9255 for further details.
Murphy Bed Depot DIY Kit
With our DIY Kit, you can build your own Twin/Single, Full/Double, Queen, or King size panel bed, vertical or horizontal.
Shipping is free to anywhere in the lower 48 states and low-cost to Canada, otherwise please ask us for a quote, even international possibilities.
We ship within a few business days.
Please Note:

No Wood is Included
This kit includes the same mechanism as our Panel Bed Frame Kit but allows you to build the frame yourself, out of wood. No wood is included in the Murphy Bed Depot DIY Mechanism Kit.
The included springs can handle the weight of most cabinet materials and any mattress, including memory foam (keeping in mind that your mattress needs to be 11" thick or less to fit under the leg rod).
We LOVE answering your questions, so feel free to click the "Live Chat" below, or call us at (866)844-9255
Dimensions (using our PDF instructions):
Vertical Mount:
TWIN Bed Cabinet: 45" w x 83.25" h x 16" d (Projection into room when bed is down: 85")
FULL Bed Cabinet: 60" w x 83.25" h x 16" d (Projection into room when bed is down: 85")
QUEEN Bed Cabinet: 66" w x 88.25" h 16" d (Projection into room when bed is down: 90")
KING Bed Cabinet: 81" w x 88.25" h x 16" d (Projection into room when bed is down: 90")
Horizontal Mount
:
TWIN Bed Cabinet: 80" w x 50" h x 16" d (Projection into room when bed is down: 50")
FULL Bed Cabinet: 80" w x 65" h x 16" d (Projection into room when bed is down: 65")
QUEEN Bed Cabinet: 85" w x 71" h 16" d (Projection into room when bed is down: 71")
KING Bed Cabinet: n/a
To build your own Panel Bed Cabinet System, you'll need:
New Lower Price, Includes FREE SHIPPING! Build Any Size Bed
THE MECHANISM | SBLM - SPRING BALANCE LIFT MECHANISM
The DIY Kit includes our heavy-duty, universal, easy-operation lift mechanisms. Designed for everyday use, this mechanism allows for varying spring combinations in order to balance all bed sizes Single through King, and creates easy fingertip operation.
THE FRAME | DIY - YOU-BUILD WOOD BED FRAME
The DIY Kit includes the legs, leg-rod system, angle-brackets, and screws to build a frame from your own wood. Designs are included for building a Single, Double, Queen, or King size bed, and the versatility of the design gives the user the option to mount the frame in the vertical or horizontal mode.
Customer Reviews
Write a Review
Ask a Question
Filter Reviews:
springs
chart
instructions
Murphy
customer service
size
ordering process
impression
wall
company
10/17/2020
larry m.
United States
05/20/2020
Greg T.
United States
King Size DIY with ease!
Do to the location and layout of my guest bedroom and that we use it as a home gym too we needed a kit we could build ourselves. We already had a king size bed, so this kit was just what I needed! I ended up only using 4 of the 5 pieces of plywood required from the built sheet, I only used a couple clamps (not the pipe clamps), and did need more 1 1/4 screws, but overall, I loved the ease of the kit and would recommend to anyone with a need for a Murphy bed and want to build it themselves.
04/17/2020
ROBIN J.
United States
02/15/2020
Shirley B.
United States
Great value
We built the Murphy bed kit and used the supplied hardware to complete it. The instructions were very good. They were especially good when cutting the plywood as the made efficient use of every sheet. It did take a little studying to completely understand the instructions, but overall was very good. The bed turned out great and we plan on using it for years to come.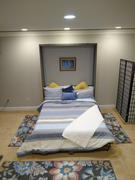 12/11/2019
David S.
United States
DIY Murphy Bed from MurphyBed depot
Overall was a good kit and good plans. Just finished putting it together yesterday. There are a few (minor) process steps that I changed from a sequence standpoint. One area that does need to be looked at is the spring chart. We built it as a queen size bed and had 14 springs in place per the chart provided. When all was said and done we ended up removing 4 springs. Fortunately was being assisted by a friend who was not shy about cutting out the springs. A process that most would probably not want to do. Again overall a good kit and plan package.
LET OUR CUSTOMERS SPEAK FOR US
Finally!
We have been looking for an affordable and well designed murphy bed for about 10 years. We found all that and more in the Next Bed. We just installed it in a closet and are awaiting our first guests. Thank you for helping us make our guest room better.
Michelle B.
05-21-2019
No Problems
This is the second Majestic Library Bed we have purchased from Murphy Bed Depot. The quality of the bed and service we received were excellent. The company went out of its way to be of help.
David B.
05-24-2018
Loved it!!
Loved it!! I was building a Murphy bed myself for our guest bedroom/office and the instructions were easy to understand. The hinges work with ease and the panel was easy to assemble and attach to the false cabinet doors. I would purchase this kit again if we ever decide to do a custom Murphy bed at a future home.
Timothy H.
05-24-2018