"The Next Bed" Wall-Mounted Murphy Bed Frame
$595.00
$489.00
(We Pay for Shipping)
"The Next Bed" Wall-Mounted Murphy Bed Frame
The Next Bed: A Modern Wall-Mounted Murphy Bed with Wooden Slats for Ultimate Comfort
Double Size Restock Expected in December 2020
We Pay for Shipping!
What people are saying:
Great purchase.
I've been looking for a Murphy bed for a while and settled on this one because it attaches to the baseboard and not the wall. I'm very happy with it. It arrived in 2 days, is affordable, easy to assemble (for 2 small women) and durable. I'm going to build a simple cabinet around it, but it would not be necessary if you don't want to. I highly recommend this bed.
---
Click "Add to Cart" To Start Your Order
The All-Inclusive Murphy Bed option
Bed Sizes Available: Single/Twin (39" Wide), Double/Full (54" Wide), Queen (60" Wide)
In stock, ready to ship within 2 days via FedEx Ground
Designed for Everyday or occasional use
Lifetime Warranty on the white powder-coated steel bed frame
Bent Wood Slats of laminated wood to support your mattress, up to 11" thick
Maximum Mattress Thickness of 11"
Spring Counter-Balance System makes raising and lowering effortless
Mounting Options: Can be mounted to either the floor or wall with included wall mount brackets
Small Footprint as little as 16 inches deep (mattress thickness + 9 inches)
Self-Actuated Legs: The legs come down automatically as you lower the Next Bed
Installation Options: Can be installed as a stand-alone frame, in a cabinet, or in a closet
Next Bed Dimensions
Single/Twin: 39" W x 79 ¾" H x 16"-19" D (Protrusion into room 80")
Double/Full: 54" W x 79 ¾" H x 16"-19" D (Protrusion into room 80")
Queen: 60" W x 84 ¾" H x 16"-19" D (Protrusion into room 86")
Note: The Depth and Protrusion Grow as the Mattress Thickness Increases (Mattress Plus 8")
Please note: All Measurements are Approximate
The Next Bed in Action
Compared to the Door Bed Frame
The Door Bed Frame and the Next Bed are similar options, and we get many questions about the differences.
The Door Bed Frame can be ordered without wall mount brackets, and without a mattress support, resulting in the lowest-priced Murphy Bed Frame Kit
The Next Bed always includes wall mount brackets and wood slats as a mattress support

The Door Bed Frame and Next Bed both use springs, and the lift mechanisms are nearly identical

We use the Door Bed Frame in our Majestic Library Bed and Boaz Bed, partially because the Door Bed Frame requires 1" less depth, when in the vertical position

The Door Bed Frame is made angle-iron, powder-coated black
The Next Bed is made from tubular steel, powder-coated white
Customer Reviews
Write a Review
Ask a Question
Filter Reviews:
instructions
frame
space
room
assembly
parts
Murphy
springs
Everything
mattress
09/11/2019
Stephen S.
United States
Best Bed EVER!
Looked at many Murphy bed sites before deciding on The Murphy Bed Depot. Good reviews, Price and Shipping were all based on my decision. If I could give it more stars I would. Directions more than easy to use and understand. A well made product for the money. Thank You Murphy Bed Depot!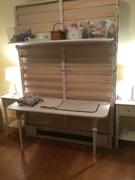 10/07/2019
MurphyBedDepot
Thank you so much for sharing your feedback and your photo, Stephen! I'm so happy to hear you've been able to save space using the Next Bed. It's our pleasure to have been able to help.
Two Twins for Visitors
I absolutely adore the murphy beds I purchased for my office closets! We have a very busy farm and often have last minute visitors. I bought these beds for just this purpose. I have had to remove them and paint the closet, and reinstall them. EASY PEASEY!! Im am very happy with the quality and functionality of the beds. Thank you for the great product!
11/12/2020
Richard L.
United States
Worked out great
I really like the frame.....it is well made. Assembly was fairly easy although the instructions have room for improvement. The springs were a challenge, make sure you have channel lock pliers. This is going to last. The support team is great. They responded to email within a day.....actually one was within several hours. I recommend this frame. I only wish it was made in the US.
EP
11/10/2020
Elizabeth p.
United States
One office was not enough....
We learned this summer that my husband and I needed to have 2 offices. We had one office and one guest room. Not wanting to lose the guest room for the family that comes to stay with us, we looked into alternative bed options. We did NOT want to lose the REAL bed. A Blow up bed or a fold out/futon would NOT work! We were so thrilled to find that we could actually widen our closet in our guest room and fit the bed nicely inside the closet! It was a big project for us unhandy folk, but we ended up doing all by ourselves! It was SO worth it! I recommend this bed to anyone who needs a fold away or hideaway bed. No cabinet making skills? No problem, It fits in a closet nicely if you open the doorway a bit. WORTH EVERY PENNY!
11/06/2020
Carl F.
United States
Outstanding
Although it took me a year to put it up, it is an oustanding product. It was packed well and easy to assemble. The instructions are a little weak but easy enouvh to figure out what you need. Great product. I would buy this again.
LET OUR CUSTOMERS SPEAK FOR US
Finally!
We have been looking for an affordable and well designed murphy bed for about 10 years. We found all that and more in the Next Bed. We just installed it in a closet and are awaiting our first guests. Thank you for helping us make our guest room better.
Michelle B.
05-21-2019
No Problems
This is the second Majestic Library Bed we have purchased from Murphy Bed Depot. The quality of the bed and service we received were excellent. The company went out of its way to be of help.
David B.
05-24-2018
Loved it!!
Loved it!! I was building a Murphy bed myself for our guest bedroom/office and the instructions were easy to understand. The hinges work with ease and the panel was easy to assemble and attach to the false cabinet doors. I would purchase this kit again if we ever decide to do a custom Murphy bed at a future home.
Timothy H.
05-24-2018